On March 12, 2014 Dr Martyn Davies, world renowned analyst, gave a presentation at Dovetail's Warehouse Management System Roadshow and noted that Africa is a growing hub, geared for economic growth and expansion. As Africa grows, infrastructure will keep improving and the demand for logistics services will increase drastically.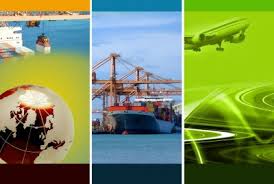 Dr Davies noted that:
•In 2007, all but 3 of the 183 countries monitored by the IMF grew (except Fiji, Zimbabwe and Congo); and 114 of them by more than 5%
•Only 50 countries had managed a growth rate of more than 5% in the previous 2 decades
•In 1980 only 16 countries had inflation of less than 5%; by 2007, 103 countries had inflation of less than 5%
The growth patterns reflected in Dr Davies presentation made the future of Africa look very promising and the future of logistics bright. So how are companies supposed to gear themselves for the increase in demand for logistics services?
Know where your company fits in and what the requirements are
If you are targeting Namibia for expanding your transport business into Africa then make sure that you know what the opportunities, challenges, threats and weaknesses in Namibia are so you will be able to fulfill a need and thereby create a demand for your services. You also need to know what the infrastructure constraints will be and how this will affect service delivery: If you are able to deliver a specific package overnight in South Africa it does not mean that you will be able to do the same should you establish a warehouse or office in Namibia.
Service delivery should be measured against the environment in which you operate. Otherwise you will be making promises to customers that you cannot keep, or you will have expectations that cant be fulfilled.
Get Familiar with Regulatory Requirements, Taxes and Business C
Whether you would like to expand a courier, transport, warehousing or distribution company into Africa you need to know what the regulatory requirements are, what the procedures and requirements are when crossing borders and how international tax requirements will affect your company. Ensure that you have all of this information before making the decision to expand your operations across borders so you can plan and allocate your resources accordingly.
Establish Local Partnerships
Before establishing yourself or making your services available across borders, ensure that you have local contacts in the area you would like to conduct business in. If you are a logistics software provider, you need to ensure that you have local contacts to supply the needed hardware.
Subsequently, transport providers should have trustworthy maintenance companies or if you are going to an area where English is not one of the official languages, you need to ensure that you have a translator available at all times to ensure efficient communication with clients and officials.